2021-11-04
Enhance customer experiences with a move into Omnichannel Marketing
Having a digital-first business strategy is one of the main priorities for many brands today, with 89% of all companies already adopting the approach or planning to do so (IDG). At the forefront of this transformation are the considerations of each businesses online properties, from websites to mobile apps to social media accounts – and everything in between.
One of the rewards of businesses owning a combination of these properties is the ability to interact with customers (or potential customers) in a variety of environments. This is enabled by the various marketing channels associated with these environments and, in the best cases, often aligned to the type of customer as well as their journey to date.
Today there is a requirement for marketing teams to utilise a variety of channels in order to engage with their customers, with 73% of shoppers now using more than one channel during the purchase journey (Harvard Business Review). However, the unification of these channels as part of a holistic marketing strategy is where the real value is found.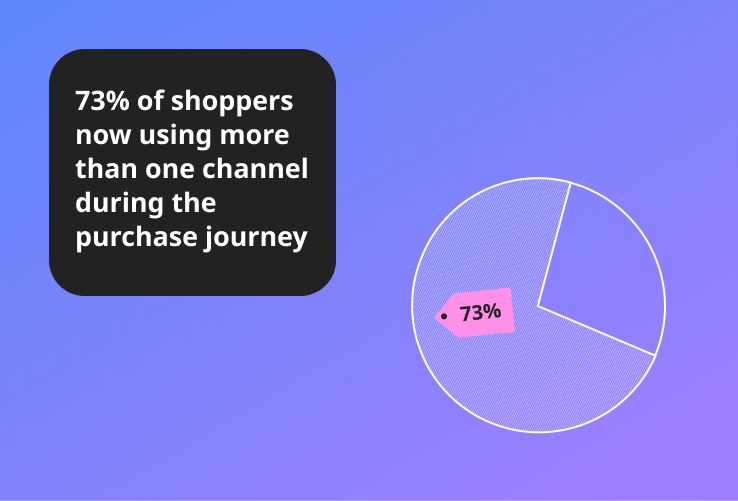 Multichannel vs Omnichannel: Differentiating the Buzzwords
There are two terms that are often used when referring to the engagement with customers across a number of channels simultaneously; multichannel and omnichannel. It is a common misconception that the terms can be used interchangeably and differentiating the two is often a stumbling block for businesses.
Multichannel – Customer engagement that is activated across multiple independent channels is referred to as multichannel. This activity is often siloed. It's not connected or influenced by the insights and engagement from other channels running concurrently, e.g. paid social campaigns and email activity having no integration or effect on one another.
Omnichannel – Marketing channels that are working collectively and in unison to provide users with a seamless and continuous experience as they move between a business's digital properties is known as omnichannel. Messaging is consistent and tailored to the user based on the data and interactions on their journey. For example, activity is delivered to individuals via either mobile push notifications or SMS based on their habits and stage in the purchase journey.
The difference between the two terms should certainly be a discussion point for companies developing digital-first business strategies and this is particularly significant when referring to customer retention – an area that is commonly prioritised by our clients today. Companies with the strongest omnichannel experiences retain 89% of their customers on average, compared to 33% retention for companies with weak omnichannel customer experience (Aberdeen Group).
If we combine this with the consideration that an estimated 80% of businesses' future revenue comes from 20% of their current customers (Gartner) then the importance of introducing omnichannel marketing strategies – for customer retention alone – becomes evident. However, it's one thing understanding its importance but another putting it into practice successfully and this all starts with the technology.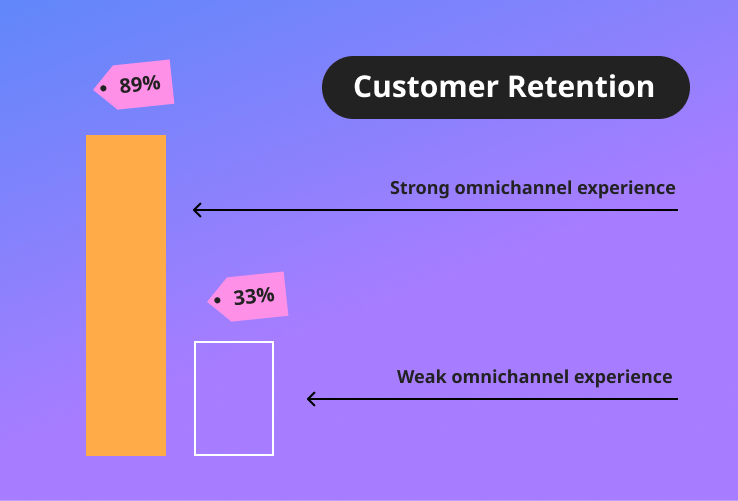 The Evolution of Customer Engagement Platforms
The technology that marketers use to engage with their customers has been subject to a transformation over the years. These developments are a result of enhanced customer expectations when engaging with businesses as well as marketer demands to meet – and exceed – these expectations.
This situation is apparent if we refer back to a statistic previously mentioned, where 73% of shoppers are now using more than one channel during the purchase journey (Harvard Business Review) and contrasting this with Gartner's findings that over 90% of marketers struggle to seamlessly connect more than three channels during the purchase journey.
The point is that MarTech platforms have needed to evolve to provide today's marketing teams with the tools necessary to create the omnichannel experiences that their customers require. But which features have been introduced as part of this evolution?
Leading engagement platforms today typically offer email and SMS functionality, native integrations with ad networks (e.g. Facebook and Google Ads), messaging capabilities with websites and mobile apps (e.g. in-browser and in-app push notifications), connections with over-the-top messaging platforms (e.g. WhatsApp, WeChat), and a number of AI enhancers for optimising activity across the above.
With that being said, the developments to today's platforms present a number of opportunities for businesses, among which are:
Enhanced customer experiences – Orchestrating omnichannel activity within one platform allows you to provide consistency and continuity for customers as they engage with your brand.
Improved campaign performance – Whether it's optimising ad spend with first-party data or using AI to select the best channel for your campaigns at a user-level, data and insights can become easily accessible to influence marketing activities and drive performance.
Simplified activation – Marketing teams no longer require several platforms to engage with their customers across various channels. Instead this is achievable within a single, cohesive tool.
Key takeaways
Connected and seamless omnichannel experiences are now expected by customers as they engage with businesses online. However, I often see businesses with little to no activity within this space. It's all too common for marketing channels to be siloed, messaging inconsistent, and user journeys lacking continuity.
If I were to pinpoint the most common reason for this it would be due to awareness. Whether that's awareness of the current expectations of customers, the capabilities of the customer engagement platforms today, the benefits that come alongside omnichannel marketing, or a combination of the above.
One thing is for certain,  as new digital environments are introduced, the channels and capabilities that customer engagement platforms provide will only develop as time goes on – as will the expectations of the customers. We already have a glimpse of the next wave of digital channels emerging in the form of connected tv and voice assistants. However, before we can consider where the next developments will be, the reality is that many businesses currently still have outdated, underperforming, multichannel strategies despite their customers seeking – and technology enabling – omnichannel.
If you'd like to discuss how we can help to introduce or enhance omnichannel marketing strategies for your business, please reach out below.