2023-10-25
4 Salesforce Marketing Cloud features Financial Services should be using for personalisation
It should be a known fact that most customers (McKinsey research puts the current figure at 71%) expect slick and highly personalized online experiences from every company they engage with. And, as the evolution of technology shows no sign of slowing down, this expectation is only going to increase. 
Personalisation is no longer something only expected from huge online brands like Netflix or Amazon. It is a must for all organisations and industries - including more 'traditional' ones such as Financial Services. 
"Today, an FSI (Financial Services Institute), whether it's a retail bank, insurer or asset management company, is viewed much more as a partner in the consumer's lifelong financial health," (Adobe Digital Trends report) as opposed to a place where financial transactions, investments or loans are merely facilitated or enabled. Innovative newcomers to the industry are catering to this need by keeping a sharp focus on delivering accessible and engaging digital experiences to their customer base. This adds further pressure on the more traditional 'bricks and mortar' institutions whose business models weren't originally set up for digital interactivity with customers. These brands are now having to make big changes to protect their place in the market and continue to provide value to their existing and new customers. 
The challenges of personalisation within the Financial Services Industry
Data is a point where a lot of industries come unstuck with their personalisation strategies. This may be in struggling to collect the data they need or not having access to all of it within one platform. Brands that have been operating within the industry for a long time are likely to be working with legacy systems and therefore it's unlikely these are well integrated with each other. This adds big challenges when trying to understand the customer through a unified lens and means data can sit in silos.  
Privacy is a huge factor here as well. FSIs have access to highly sensitive personal and financial information. Striking the balance between providing a personalized experience and respecting the private nature of this data is crucial for building and maintaining trust. Being subject to stringent industry compliance requirements such as FCA regulations adds additional hurdles.
Unlike ecommerce brands, it's probable that most FSIs have fewer opportunities to interact directly with customers and therefore the collection of data and insights necessary for effective personalisation can be more challenging.  
What does personalisation look like in the Financial Services Industry?
Despite these challenges, personalisation is being used in many different ways within the industry and includes customized product offerings, targeted marketing, personalized user interfaces e.g. app dashboards, and chatbots to name just a few. 
Coinbase uses the data they collect to provide a valuable and personalized transactional email for their customers, as pictured below (automizy), reminding the customer of their purchase, when they can expect to access it in their account and further validating data to provide clarity and peace of mind: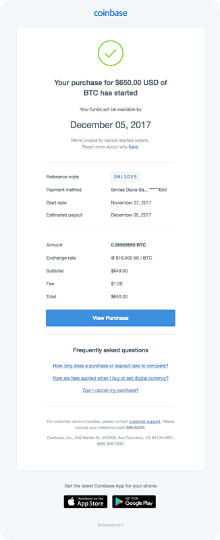 Banking brand First Direct utilizes data and emails to encourage connection over more traditional channels such as the telephone. Below is an example of an email triggered after browsing their mortgage rates. The first call to action in the email asks the user to call them, positioning themselves as an advisor and not just a bank: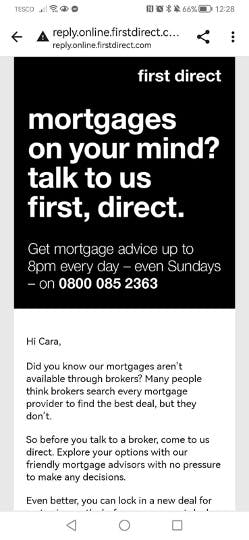 Tata Mutual Fund has implemented a virtual assistant that customers can access via WhatsApp or through their website. This allows customers to receive quick and accessible answers to their questions while allowing agents to intervene when they need to (Hapki).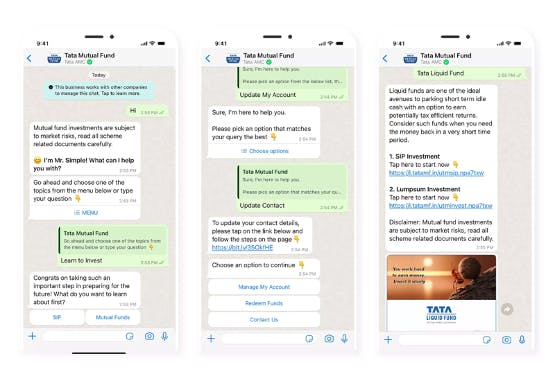 These things are made possible because there's plenty of choice out there for Financial Services brands when it comes to picking the technology and tools that will help build and deliver these experiences while also protecting customer data. A well established go-to for large institutions and/or those experiencing rapid growth is Salesforce Marketing Cloud.
What is Salesforce Marketing Cloud? 
Marketing Cloud is a digital marketing platform from Salesforce which includes tools for email marketing, social media marketing, mobile marketing, online advertising, and marketing automation. Everything is based within one platform so brands can work in a more connected way with their prospects and customers and provide a highly personalized omni-channel experience.
4 Salesforce Marketing Cloud Features Financial Services should be using for personalisation: 
While Marketing Cloud has many useful features, here are just a few that significantly enhance personalisation within the Financial Services Industry:
1. Einstein Recipes 
Einstein is Salesforce Marketing Cloud's AI feature and can be used in multiple ways to analyze, automate, and optimise marketing activity. It does a lot of heavy lifting and can provide some incredibly useful insights to help brands shape their strategy.  Einstein Recipes is a particularly useful personalisation tool. This feature utilizes machine learning algorithms to present each customer with customized product and content recommendations. It can be deployed across most stages of the funnel and used throughout various marketing channels.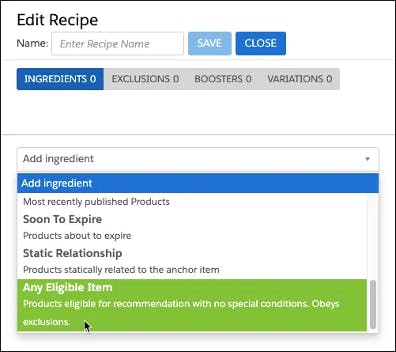 (Image from Salesforce)
Example: when a prospective customer is on your website and is in the Discover phase (they know your brand and now you're trying to pique their curiosity and tempt them to find out more), Einstein Recipes can be used to serve up relevant content to increase engagement with them. Education is essential at this point in their journey so this may take the form of providing a recommendation on the next best blog post they should read (based on how they landed on your website or what else they've looked at during their visits). 
Example: Make use of the information and insights gained from web visitors as they start to delve deeper into your website and reveal more of their personal intent and interests. Einstein's 'Similar Products recipe' allows FSIs to suggest alternative products to users that may be more compelling, e.g. someone looking at a credit card can also be shown additional types of credit cards meaning they can find the right one for them in a more timely and convenient manner. 
2. Open Time email
Open Time Email campaigns are used to deliver personalized content and product recommendations each time a recipient opens an email. It works hand in hand with Einstein Recipes by delivering real-time personalized email content to each member of your subscriber list. It will render in real-time i.e. the content will change based on the subscriber's attributes and behavior, even after they've opened the email. So they will have the most up-to-date and relevant content available to them. 
Example: using the credit card user case above - a subscriber has been browsing a particular credit card. Within your regular email campaigns you can use a recommended product block. By utilizing this feature, the email will automatically populate with the most relevant product based on the subscriber's behaviour criteria that's been set - in this case the credit card they've browsed several times. However, if the subscriber then goes on to view a different credit card with more intent (i.e more page visits, deeper content exploration - whatever your definition may be), the module will update accordingly. 
3. Triggered campaigns
A trigger is a specific event such as a visitor's behaviour or environmental change that prompts an action such as sending an email. This can be used in response to critical moments and be applied across the entire funnel.
Example: Your brand is due to release a new savings account. An existing customer has shown a high interest in long term savings and therefore they are automatically notified when the product is released, providing the opportunity to cross-sell or up-sell to existing customers with relevant products that match their intent and interest. 
Example: Your new customer is in the middle of signing up for their new account. When they have completed this task and submitted their information, a triggered action such as an email, and/or SMS, or phone call will occur. This is making use of the Segment Membership Trigger. You might also set up a rule here that if someone is in this segment for a certain amount of time i.e. they haven't finished setting up their new account, a different trigger will occur, e.g. an email providing useful information to coax them over the finish line or a phone call to see if they're experiencing any difficulties with their submission. 
4. Journey Builder
Journey Builder really sits at the heart of everything you do when it comes to building a personalized, engagement-based customer journey. It's a bit like the control center where all of the above can be incorporated and sent out automatically, according to the criteria and decision nodes you apply.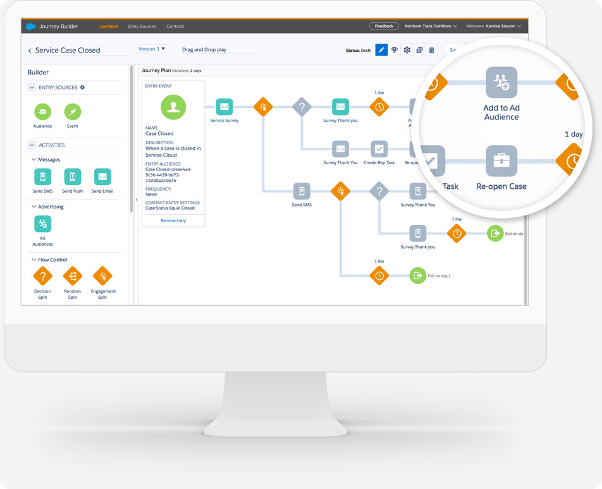 (Image from Salesforce)
Journey Builder is a very powerful tool for personalisation and it's very simple to use with its drag and drop functionality. Here you can communicate with prospects and customers across email, SMS, push notifications, ads, web landing pages, and apps.
Example: Your new customer has successfully applied for their new bank account. At this point you can automatically enrol them into an Onboarding Program - a series of automated emails that helps them get the most out of the product and your brand. This programme can be built and sent in Journey Builder and all decisions can be mapped out and catered for. If you're new to automations, Journey Builder will easily cater for simple programs and straightforward decisions (e.g. send email 1, then email 2, then email 3). But its true power is that it can then be applied in a highly sophisticated way as your knowledge, confidence and strategy advances (e.g. multi channel targeting, multiple splits depending on subscriber actions, and so on). 
Summary
It should be abundantly clear to all marketers by now that personalisation isn't just another fleeting buzzword. Nor is it something to just be added to the 'to do pile'. There's a true need and desire for it from consumers across all industries. 
For the Financial Services Industry there are certainly additional challenges to consider and navigate when devising and implementing a personalisation strategy. But this blog has also highlighted how many FSIs work within these parameters to successfully deliver the right experience for their audience. 
Using well-established and trusted technology such as Salesforce Marketing Cloud is crucial for FSIs with regards to keeping data safe, following data best practices and working at scale. Technology like this can do a lot of heavy lifting once you have your strategy in place and set-up complete, with its endless personalisation features and easy-to-use journey builder that helps pull it all together and automate a lot of actions. 
It's important to point out that, in order to start applying personalisation in a more advanced way, understanding the needs of your customers and mapping out those customer touchpoints is an essential foundation point. This will inform the implementation of your marketing platform, how you utilize it and how you optimise it. Because no matter how outstanding some marketing technology may be, it is a tool and still relies on the knowledge and skills of the stakeholders involved to feed it!
Jellyfish has a global team of certified Salesforce Marketing Cloud professionals. We go beyond implementation. Our unique relationship with Salesforce, Google, and our managed services offering ensures brands achieve deeper customer understanding and earn maximum returns from their investment in technology. So if you have any questions about your personalisation strategy or marketing technology, please get in touch.