2021-10-18
Building exceptional brand experiences on Amazon through data-driven content
The 'traditional marketing funnel' has changed. It's no longer a linear journey, and consumers can be at any stage of their buying journey when they decide to make a purchase. Historically, we would plan media around the fact that a consumer might head to a search engine or a social media platform for inspiration, and then to a website for information and purchasing ability. And they still might do this. But we know that search is a behavior, and consumers have different motivations on where, why and how they search. We need to think beyond the channels and consider the full platform ecosystem. 
In a world where 'compressed commerce' (and social commerce) is growing in popularity — 80% of global shoppers say they want to move from inspiration to purchase as quickly as possible (Wunderman Thompson – The Future Shopper 2021) — third-party marketplaces, such as Amazon, eBay and Alibaba have gained traction. They have done this by providing the full trifecta of consumer needs – information, inspiration and purchase ability, but only if the brands take full advantage of the opportunity. It's urgent that brands understand that consumers may come to a transactional platform, such as Amazon, not only to buy but also to read reviews, to compare and to know more about a brand and a product. It has become imperative that brand manufacturers understand what it takes to succeed on these competitive platforms, or risk losing out on growth and revenue. At Jellyfish, this is something we understand and fully embrace. Our team of experts give our clients a platform to perform, by advising them on where their audience is spending their time and money online. 
Taking advantage of the digital shelf
In my experience, many brands are not taking full advantage of the 'digital shelf' that third-party marketplaces provide. DNVB (Digitally Native Vertical Brands) are usually quick to understand and to fully embrace the opportunities and challenges. They know that success starts by listening to what the consumers search and has to say. This can be found from investment in audience insights to create persuasive, well-thought-out copy and data-driven creative for product pages and listings. And ultimately, ensuring an exceptional brand experience for the consumer. 
The magic formula? Don't start by what you want to say as the brand, but by what consumers search (keywords), click on (top ASINS), and say (reviews). It's not about your storytelling but about all the information a consumer is expecting to find (and even the ones they did not expect to find) to help make a decision that should feel like the right one.
Amazon is constantly rolling out new ways to help brands create a home for their brand on the platform. With the introduction of Amazon Stores and A+ Content, brands can achieve an owned website-like experience for their brand on Amazon. These features are increasing in popularity and becoming more visible to consumers (ie. the brand store is now accessible via the Search bar on amazon.com and is also pushed at the bottom of the product pages), and it's even possible for customers to 'follow' their favourite brands on Amazon via the brand store, just like they would on Instagram or Twitter. (Word in the street say that consumers will be more exposed to products of the brand they follow. Would that be the beginning of CRM and personalization?)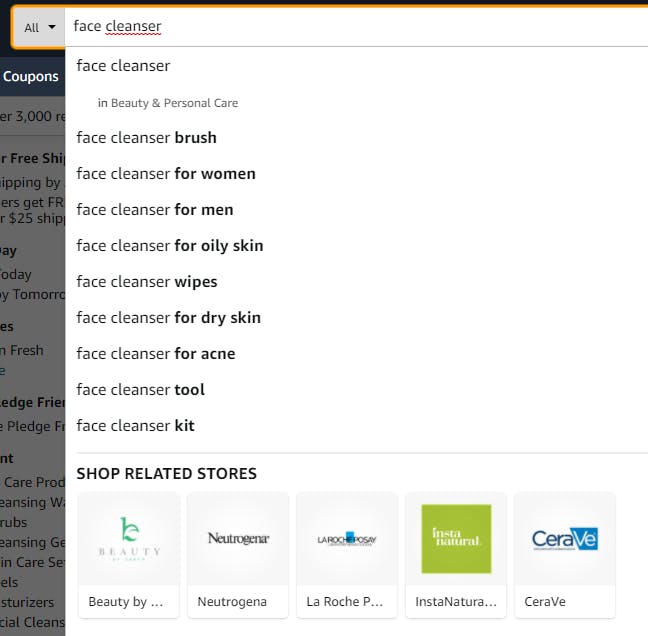 It's pivotal that every brand looking to be successful on Amazon treats their branded content and listings the way they would on their own website (and if you're not investing in ecommerce content for your own website, you could be missing out on critical opportunities to turn browsers into buyers).
I get it, it's a challenge to know what the rules are for every platform that exists in the digital ecosystem. That's why you need a partner like Jellyfish, to help you navigate through these growth-driving platforms.
Why creating a great brand experience on Amazon is so important
Picture this, you've purchased the perfect gift for a child's birthday. There's anticipation as they unwrap the gift, and there is surprise and elation as they realise what it is. They're excited to open it up and get started. But wait… there is a surprise for you too. You realise the gift needs batteries / an hour's set up / magical fairy dust. The moment is ruined and your love for the product or brand dips. You wish you'd known about this beforehand. What could be even worse, the product is delivered in a transparent new eco-friendly packaging and the surprise is ruined days before the event.
If you had purchased the gift in the physical store, it's likely you may have been forewarned about the need for batteries or advised on the best way to set it up by the friendly shop assistant, but if you had purchased the product online, you're reliant on the information provided on the product page. To ensure a positive brand experience for the consumer, retailers should provide a mix of persuasive, brand-related copy and visuals that give the browser the full information required to enjoy the product.
Building exceptional brand experiences through content
Marketers are well-versed in the habitual 'test, analyze, refine' process within any strategy. Historically, it has always been tricky to measure the true impact of content optimization on Amazon. As with any good test, you need to ensure that not too many variables are movable. You would need to use the same imagery, paid media spend, and even stock levels, the number of reviews and ratings, which has been challenging. But now, Amazon has released A/B testing for content (at the time of writing, this is in beta), which allows titles, A+ content (in the USA only for the moment)  and hero image to be altered and tested to see which allows for a higher conversion rate. The tests can be set up from 4 to 10 weeks. Expect a delay of 72 hours after each week of the test to get the results. It's a beta but it's worth it!
We worked with one of our clients (a renowned and universally-loved beauty brand) on a complete brand content rework to ensure that they remained best-in-class across the Beauty Premium category on Amazon. We started with intense analysis of the audience and shopper data within Amazon to understand what was currently driving them to the page, what was motivating them, and what gaps we could fill to provide an exemplary brand experience.  
One year after, the results were positive across the board when we compare the performances of the product pages before and after the visual rework:
2% increase in ROAS
70% increase in page views
34% increase in ad CTR
6% increase in the number of clicks on the ads
3% increase in conversion rate
All achieving more sales and increased revenue for the brand, but more importantly, creating the opportunity for their loyal fans, casual buyers, and typical browsers to have an exceptional brand experience, before and after the purchase of the product. 
Let's talk about the popular pet category on Amazon. We love our faithful companions, and we spent almost $250 billion on pet products globally in 2020. Using audience insights, we discovered that searches around pet products tend to feature issues and problems that pet owners are having. Utilizing Amazon's A/B testing feature for the title and main images for one of the world's favorite petcare brands, we increased the conversion rate of their products by 7%, simply by adding the issue/keyword such as pee, scratching, hissing to the title. This 7% increase in conversion rate resulted in a €44k revenue increase and an increase in 2,000 orders over a one year period.
Want to know how our team of platform specialists can supercharge your brand experience on Amazon, or other platforms? Send us a message below and we'll be happy to help.