2021-09-07
Solving the Privacy puzzle
Changing consumer attitudes in the wake of scandals such as Cambridge Analytica means that people are more concerned about their data – where, why, how and what it is being used for. Equally, technology providers such as Apple are bringing in updates to protect consumer privacy, such as the iOS 14 IDFA update that changed the way apps natively track users, or the upcoming iOS 15 update that gives users the option to prevent open tracking on emails.
These shifts mean that organizations have no choice but to adopt a privacy-first strategy, and ideally one that is agile enough to factor in the changes in laws, legislation and technological developments that are yet to come.
To businesses and marketers, privacy should be seen as much more than a compliance concern. It's an opportunity to maintain consumer trust and loyalty. The privacy challenges ahead are a chance to rethink and find better ways of working. 
A recent survey of US internet users by Fluent showed that only 39% of  Gen-Z, and around 50% of all other age groups, actually trust a brand to protect their information once they have opted-in. More needs to be done by brands to generate trust, or they risk losing consumers through a lack of brand loyalty.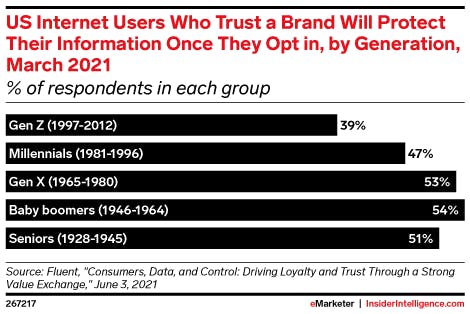 As much as we'd like there to be, there will never be a 'white knight' that will solve consumer privacy challenges. The best thing that you can do is to focus on gaining the respect of your current and potential customers. It's a step in the right direction, and trying to align with the values of every consumer is not an efficient or effective use of time.
It's time to see these changes as an opportunity to do better, not as a constraint on your current activity.
Our eBook, What Business Leaders Need To Know About Privacy, outlines how to take the first steps in creating a privacy-first strategy. Our experts will navigate you through the privacy challenges, with emphasis on how we can be better marketers, specialists and leaders. It focuses on three key areas; Data, Technology & People, and you'll learn what's changing, what's not and how to identify the best solutions for your business.
How we're solving the privacy puzzle for clients
At Jellyfish, we believe that privacy is by design. It should be fully integrated and enabled across the whole organization. It's also something to embrace, don't see it as a constraint. Use it to establish consumer trust and loyalty. Privacy traverses all borders and regions of the world and will affect every business, large and small.
If you're looking for help navigating these privacy challenges, we're here for you. We're actively assisting our clients with their data strategy globally. We ensure that our clients thoroughly understand the impacts, employ the very best technical solutions and then accurately deploy them.
We have created a privacy framework based on four steps:
Awareness workshop
Taken as a half-day, full-day or multiple-day workshop, we give all key stakeholders an overview of the challenges and help them understand the impacts on the digital landscape.
Maturity assessment
We have developed a robust privacy maturity assessment that reviews the existing technology stack, data strategy and organizational infrastructure to evaluate how privacy-focused the current business strategy is.
Solution identification
Based on the results of the maturity assessment, our team of experts will select and evaluate potential technological, strategic and training solutions that would fit into the data strategy and compliance requirements.
Deployment
Our team of experts are on hand to deploy the selected solutions, following the guidance of the relevant Data Protection Officer (DPO) and in alignment with the data strategy. 
Want to learn more about how we can help navigate your privacy challenges? We'd love to chat!