2020-09-18
To Win In Digital, Your Brand Needs a Blog
Geoffrey Colon, the Head of Brand Studio at Microsoft Advertising, tweeted (replete with five exclamation points!!!!!) and several leading industry experts weighed in with declarative replies that blogging never went anywhere.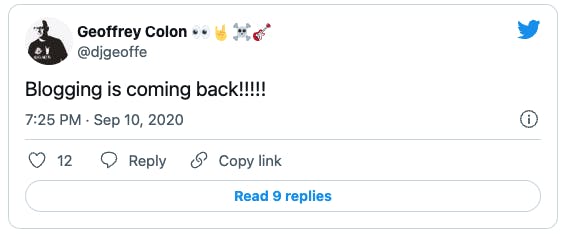 Blogs were one of the first types of digital content created for the internet, and have been a consistent, growing staple of our worldwide web ever since. Individuals, families, teams, corporations, you name it… They have created and maintained blogs for a variety of purposes over the past 20 years. From information-sharing and entertainment to engagement and conversion-driving, blogs also deliver significant commercial benefits for brands. Just about every single company – big, small, local, global – can benefit from a blog if the content is appropriate for, and is discoverable by, its intended audience.
In 2020 I declared that it would be the Year of Owned and Operated Content for brands. A number of factors have since made this a reality, as a means of supporting brands' overall digital framework, bolstering content for an influx of website visitors and enhancing the eCommerce experience during our ongoing COVID adaptation. What we have seen time and again is that a well-run, well-supported, well-amplified company blog can have significant SEO implications and drive monumental business results.
So what are some key ways to create that SEO value for the brand while also providing real content value for the consumer?
1. Address Your Audience
Consumer data and insights aren't just for media planners buyers. Writers and editors for branded content must leverage all available data sources, as well as understand how to prioritize what the insights tell them about their target audience.
2. Short, and to the Point
A Fractl study found a positive correlation between backlinks and content with less than 700 words. They analyzed over 5,000 articles to find the most linked-to articles are roughly 695 words in length. So optimizing site content for Google's Featured Snippets (sometimes referred to as position zero) is becoming a vital SEO ranking tactic.
3. Promote and Keep Promoting
Just because you build it (or write) doesn't mean they'll come. Blogs and editorial content must be part of broader, omnichannel approach that leverages external platforms and traffic to drive engagement, social media activity and raise the SEO score.
4. Be Timely
The creation of content that people are looking for is as much guided by trends and timeliness as longer-term patterns. People change, expectations change, behaviors change. Content that taps into timely topics can drive links if it is unique, original, and compelling.
5. Inform and Instruct
Different types of content formats can create value, and some experimentation to get it right is recommended. Generally, we see that the most popular types of posts are "How-to" articles, list/video, how-to articles WITH video, infographics, and newsletter summaries.
6. Go Deep (Linking)
Deep linking utilizes anchor text to connect to other pages within your website, be it blogs, eCommerce pages, landing pages, informational pages, or other destinations that are not as discoverable otherwise or less frequently visited. Deep linking shows the search engines that you're more than just a blog.
7. Optimize the Visuals
We can see that our eyes are naturally drawn to compelling visual imagery within posts, and if they really are worth 1,000 words, then they are even more important for boosting SEO. When visual elements are integrated onto sites, SEO rank increases becomes far more likely as the piece is more digestible, more engaging, and, with additional metadata, additional opportunities to optimize for search engines.
8. Quality over Quantity
A general rule of blogging is not to create content just for the sake of creating content. Producing too much content on a regular basis is only valuable and viable for brands and industries that have constant news and updates to share. Frequency doesn't boost SEO, so it's better to be more sporadic and good, than more frequent and crappy.
9. Fix Your Links
Broken links are SEO death. Beyond just a subpar user experience, broken links have a detrimental impact on overall SEO performance.
10. Use Your Keywords
A popular improv comedy game is when the performers have to incorporate random words in a sketch. While perhaps not as random, good bloggers or creators will include latent semantic indexing (LSI) keywords to boost SEO ranking performance.
BONUS:  De-Code Your Code
The simpler your back-end code is for your content, blog or website, the better your content is likely to perform. So keep it clean, light, and simple to ensure greater site load times, discoverability, and user experience.