2020-09-22
We're Emmy winners
It's an honor to be nominated for an Emmy, and as this prestigious event unfolded virtually across screens all over the world, our dreams became a reality as Social Life (part of the Jellyfish Group) won an Emmy for their work with the Netflix series, Big Mouth.
Winning Outstanding Derivative Interactive Program, we scooped this coveted award for the Big Mouth Guide To Life, an eight-chapter sex education 'book' covering crucial topics such as periods, body image, and sexuality, hosted on the Big Mouth Instagram.
You can watch the announcement here.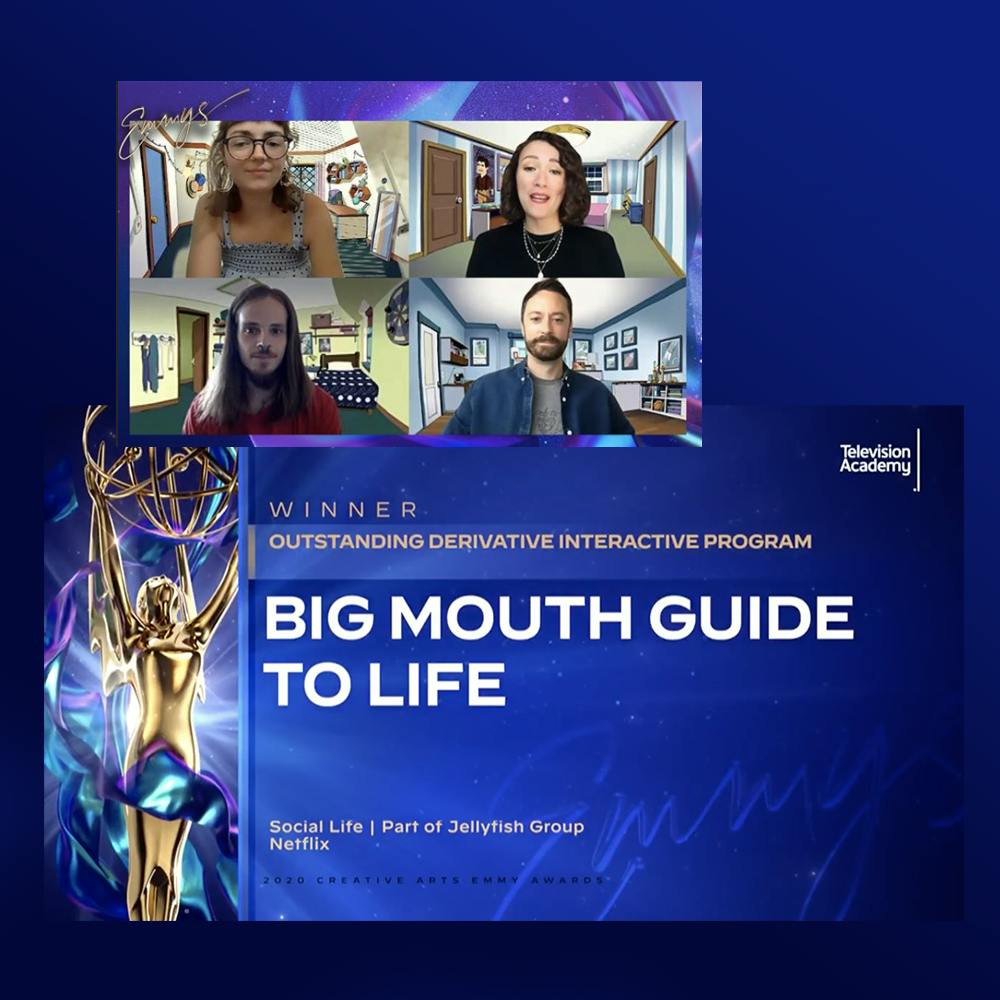 "I never thought that when we started our own agency as two creatives with loads of ideas but very few clients that seven years later we'd be responsible for the birth of an Emmy Award Winning company and a part of one of the world's most exciting and fastest-growing agencies," said Alistair Parrington, Co-Founder, and Director at Social Life. "We're beyond proud of our team, super excited about the future and just psyched to be a partner of a company like Netflix, where the boundaries of marketing are just not really there."
Laura-May Coope, who joins Alistair as Co-Founder and Director at Social Life, believes this accolade comes from the team's hard work and ability to innovate and reward, "From sexuality, toxic masculinity and periods, to consent and social media addiction, we provided responsible, inclusive, sensitive, engaging and interactive storytelling for a huge audience. Many of the viewers weren't getting inclusive and modern sex education from schools or colleges, we worked with Big Mouth's unique tone of voice and then released this series to Netflix's highly engaged social audience. As a team, we are constantly spearheading new ways to make valuable connections with social audiences, this is a prime example of that approach and hard work coming to fruition."
t's been an exciting journey bringing Social Life into the fold and I couldn't be more thrilled for the extremely talented team that worked on this campaign. An Emmy Award is such an amazing way for the team to be recognized for their innovation, cutting-edge creativity, and flawless campaign execution.
Rob Pierre, CEO, Jellyfish
This award was made possible thanks to our strong partnership with Netflix. A partner who supports content initiatives that exist to enrich, not simply to entertain, and we're privileged to be one of their creative partners.
Congratulations to the team!
Are you looking to create meaningful campaigns for your brand? Get in touch with us so that we can find ways to work on great content, together.