2021-02-15
Amazon Business – don't wait to get your share
Amazon Business is a platform exclusively dedicated to B2B. This relatively new platform might be the business boost you were waiting for; imagine if you had started selling your products on Amazon in the early years!
In this article we explain how it works, why you should consider it and our best practices for success.  
The platform 
Launched in 2015 in the US and in 2018 in Europe the platform uses almost the same markers as the initial well known B2C marketplace.
Selection: All the products available on B2C are available for B2B
Pricing: Amazon is fighting to offer the lowest price possible
Delivery: Even for a large order, Amazon will provide free and quick delivery
Tracking: Spending visualization and corporate approval workflows with multi user accounts. At Seelk for example, we will be able to track how much we spent out of our initial budget. Plus, Gaëlle in charge of Finance will be able to approve (or deny) employee requests
Administrative: With integrated purchasing and a Pay By Invoice system, all invoices and expenses are centralized on the platform. 
As for its B2C platform, the ultimate goal is to offer a smooth consumer experience.
The platform looks like the one we all know but is unique and dedicated to business buyers.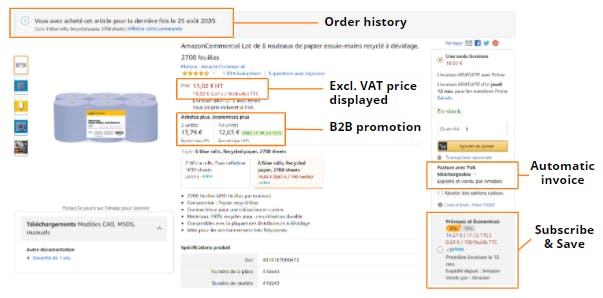 Why sell on Amazon Business? 
First of all, there is money there. The B2B market is huge and with the acceleration of e-Commerce due to COVID-19, market size is estimated to reach $20.9 trillion by 2027*.
Lot of companies are already using Amazon Business:
55 Fortune 100 companies
More than half of the 100 largest U.S. hospital systems
Over 40 percent of the 100 most populous local governments in the U.S.
Uber, Hanesbrands, State of Utah and North Carolina State University are all using Amazon Business; a wide range of businesses that need different types of equipment. 
So, if you are already on Amazon B2C, why not try this platform? Some of your products might perform even better.
How to perform?
To perform on Amazon you get pretty much the same levers as on Amazon B2C but with some slight differences. A special effort is made to increase customer retention and loyalty. 
1. Make sure your products are activated for B2B sale.
If you are a Seller don't hesitate to offer all your products on the B2B platform (select the option on Seller Central). Products in bulk or dedicated to professionals are a good start but don't limit yourself. A lot of products might interest companies for example, toothbrushes for hotels or sales representatives, perfume for client gifts… anything is possible so don't be afraid to try! 
2. Use Amazon Business special offers. 3 types of offers are available:
Progressive discount: Based on the total number of units purchased in the past 12 months. The objective is to drive repeated purchases to encourage multiple orders. This is only applicable to business customers with Amazon Prime or Business Prime.
Quantity discount: Based on the number of units in a single purchase. The objective is to encourage bigger orders. Available to all business customers.
Price discount: Set a B2B price and specific discount. Discounts can be in currency or % and can be adapted with specific rules. 
3. Set up your account to automate invoicing to attract business consumers.
For Vendors this functionally is set by default but Sellers need to do it manually. This service is free to use, and generates invoices for you and your customers in self-service. It's easier for everyone! 
4. Get ready for dedicated advertising opportunities. 
For now you can address business consumers with DSP. (Amazon DSP is a demand-side platform that allows you to programmatically buy ads to reach new and existing audiences on and off Amazon). In 2021 some new features will allow you to create dedicated ads and merchandising campaigns for B2B. 
*Source: Global news wire