2020-12-11
Employing product descriptions to provide great service and a luxury experience online
The global pandemic has accelerated a shift away from bricks and mortar retailing, and few sectors have been as keenly affected as the luxury goods market. With swathes of affluent international travelers effectively grounded and commuters abandoning many of the world's biggest cities to work from home, the marble-floored flagships and duty free concessions of the industry's most exclusive brands have suddenly been rendered more ornament than use.
Industry-wide, both sales and revenue have fallen in 2020, but there are also opportunities for growth – and some grounds for optimism. As the FT has pointed out, the evolution online may even attract a new breed of customers, such as those once 'intimidated by immaculately groomed sales assistants.' In fact, in the first half of this year, more than 75 per cent of Hermès' online customers were entirely new to the brand.  However, to capitalize on this potential, luxury retailers must learn to create an immersive shopping experience and present their assets in the digital sphere in a way that showcases their quality and exclusivity. One key to achieving this lies in mastering the art of the online product description.
Product detail
When it comes to luxury goods, the feel, craftsmanship and even scent of an item are all part of the appeal. Conveying this level of detail online requires a deft approach. Stylish visual content is essential, while the accompanying copy must be informative and accurate – written with clarity and flair to reflect a brand's unique identity.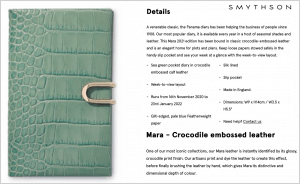 Smythson Panama 2021 Diary
Even in a year filled with cancelled events, luxury stationer Smythson of Bond Street has managed to maintain the prestige and appeal of its old-school diaries in the pages of its digital store. A mid-year version of Smythson's iconic Panama diary is 'lightweight, flexible and hard-wearing', and available in Cross grain leather in a 'myriad of new hues.'  Made in England, this eminently desirable object is bound in an 'elegant crocodile embossed leather and packed with our signature, pale blue, gilt-edged Featherweight paper'. Silk lined in black and containing a slip pocket, the Panama is described as 'just the right fit for your crossbody bag or jacket pocket', although more precise dimensions are also supplied.
Would-be diarists are encouraged to 'fill with your everyday to-do lists and carry it with you on your daily escapades.' It seems almost rude to refuse.
Product benefits
For luxury brands, creating descriptions which emphasize their products' unique benefits are essential for selling the brand's vision, justifying higher price points and validating a shopper's decision to buy. After all, these items are often considerably more expensive than alternatives, so in the face of global recessions brands must be able to set themselves apart for their benefits and quality, rather than relying on reputation and prestige alone.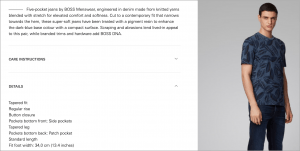 Tapered-fit jeans in knitted stretch denim
Few materials are more democratic than denim, but not all jeans are created equal, as BOSS Menswear illustrates. In the case of Hugo Boss's tapered-fit series, the garments have been 'engineered in denim made from knitted yarns' and 'blended with stretch for elevated comfort and softness.' They are cut to a 'contemporary fit that narrows towards the hem', and these super-soft jeans have been 'treated with a pigment resin to enhance the dark-blue base color with a compact surface.' For prospective buyers, a better class of denim is clearly assured.
Fit & feel
Accurately conveying fit and feel information online is a perennial challenge for any clothing retailer, particularly during an era of quarantining returned items. The stakes are raised in the luxury sector, where standards and expectations are commensurately higher. A global survey of shoppers conducted last year found that problems with the size, fit or color of a garment were responsible for more returns than any other factor. Almost half of all shoppers said that it was their primary reason for returning goods purchased online. Retailers can mollify some of the consumer's inconvenience by offering free returns, but this is a costly and time-consuming solution – and repeated uncertainty about fit or sizing will make shoppers less likely to buy in the first place.
According to our own Ecommerce Content assessment of the luxury industry, Victoria Beckham's product descriptions score highly for both 'fit' and 'feel' metrics. In addition to helpful sizing advice, the brand's product descriptions often include in-depth information about how garments sit, as in the case of a product listing for a 'Fit and Flare Skirt in Off-White', described as 'hugging the body in the right places, making it a great pairing for the matching polo neck.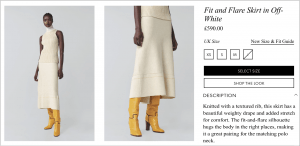 Victoria Beckham Fit and Flare Skirt
Ralph Lauren routinely provides shoppers with detailed sizing information, including exact measurements, and the site features a handy 360-degree video on each listing to showcase garments from every angle. Consumers increasingly rely on sizing feedback and reviews from other shoppers before making a purchase, so including this information can be a persuasive tool. The challenge for luxury brands is to do so without compromising the aesthetic integrity of the page, because reviews can run the risk of appearing visually downmarket. Ralph Lauren strikes this balance adroitly, with a discreet link to customer reviews, decorated with an understated star icon.
Sustainability
Sustainability and socially conscious considerations are now guiding a growing number of consumers' purchasing decisions, and the luxury sector is no exception. This trend is particularly notable among Millennials and Generation Z consumers, who are driving 85% of global luxury sales growth, and increasingly expect luxury brands to be aligned with their own values. A Nielsen study found that 73 percent of Millennial respondents were willing to spend more on a product from a sustainable or socially conscious brand.
Gucci has long led the way in this arena, burnishing its early sustainability credentials by launching a 100% traceable handbag collection in partnership with sustainability advocate Livia Firth, and introducing recyclable packaging with FSC certified paperback in 2010. The brand is also proudly gender-equal. Alongside fashion for women and men, Gucci's website features an 'MX' section, in which it sets out to 'deconstruct preconceived binaries and question how these concepts relate to our bodies', celebrating self-expression in the name of all gender equality.
Stella McCartney's fashion label, a member of the Sustainable Apparel Coalition, prides itself on a socially conscious approach. The brand's product listings mention that it has used organic cotton since 2008, with no toxic chemicals, and up to 70% less water than conventional cotton. For luxury retailers, mentioning these factors in a product description is a great way of gently reminding shoppers that their brand is aligned with their values.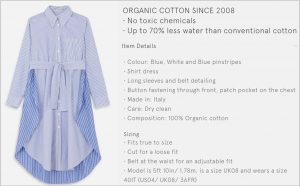 Stella McCartney Kyra Shirt Dress
Cross selling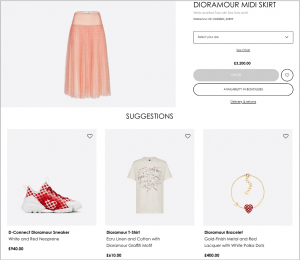 A product listing can readily segue into a cross-selling opportunity while improving the customer experience by offering styling tips or complementary items within or adjacent to the product description. This has become something of an eCommerce staple, whether the selections are AI-driven based on consumer behavior, carefully curated by in-house stylists, or simply chosen from the same series.
For the luxury sector, cross-selling can highlight a complete seasonal look, a strategy favored by Dior, or tap into collectability potential, for consumers who enjoy variants on a theme. Kate Spade provides an example of the latter, suggesting a selection of alternatively quirky 'mini' bags of interest beneath the main listing for its 'tiny cabana dot elephant crossbody.'
Product descriptions that convert: the formula
In a world in which your website may be the only link between consumers and your products, and product descriptions need to make up for the absence of offline sales assistants, getting your product descriptions right is critical to success.
A conversion-optimized product description for luxury brands needs to include all the elements outlined above – in a high-quality editorial style that reflects your brand's unique identity and tone of voice. Only then will your customers be presented with a compelling and persuasive view of your products, ultimately making them more likely to click 'add to basket'.
Find out how your product descriptions measure up against other luxury brands, and if they're likely to boost your conversion rates, by requesting an Ecommerce Content Score here.