2020-09-28
The power of hyper-personalization
Hyper-personalization helps brands deliver the highly relevant content consumers want – and expect. 80% of customers say they are more likely to do business with a company if it offers personalized experiences, according to Epsilon.
We explore the power of hyper-personalization and how Jellyfish used it to transform Toyota's email journeys.
Hyper-personalization is the practice of using data and artificial intelligence (AI) to deliver tailored content to each user. 
33% of marketers named personalization as the #1 capability that will be most important to marketing in the future, according to Adage.  And the future of personalization involves going way beyond the now familiar basics. To have meaningful communications that drive action, you need to incorporate far more data than simply '@FirstName'. It's no longer enough to just be personal, you need to be hyper-personal.
 In 2019, the automotive industry saw the lowest email open rate of any industry at just 12.6% (Campaign Monitor).  So, when Toyota approached us for help in building a better customer email experience and engagement, we knew we needed to get hyper-personal. 
74% of marketers have reported that targeted personalization increases customer engagement (eConsultancy). And we saw the same success for Toyota.
In this article, we round up the best practices and innovative techniques we used to achieve hyper-personalized success in a typically poorly engaged industry.
Why hyper-personalization
Hyper-personalization allows Toyota to take advantage of their localized services and challenge the industry's notoriously poor engagement rates.
In the UK, there are almost 200 Toyota Service Centers, offering expert servicing, repairs and MOTs for their loyal Toyota customers. These Service Centers usually operate as franchises. 
Each Service Center has the option to use Toyota's centrally managed campaign programme which owns and runs marketing communications on behalf of them to encourage customers who are due a service or MOT to book their next visit. 
A lot of customers have a long-standing relationship with their local Toyota Service Centre. They keep returning because they feel like the centers know them and their vehicle.
Getting your car looked after at your local Service Center is personal. So every email to every customer needs to feel that way, too. And that's how hyper-personalization helped Toyota buck the industry trend.
The best practices we used
Harnessing data and partnerships
To deliver truly hyper-personalized journeys to customers, you need to know what data you have, understand how you can use it, and be able to trust its accuracy.
To deliver top-performing hyper-personalized emails for Toyota, Jellyfish partnered with Salesforce Marketing Cloud as the Email Service Provider (ESP), Qube Automotive Consultancy for data, and an in-house team who were hungry to push boundaries.
Our relationship with Salesforce is unique. We are their client, we are a certified partner, and they are our client. To find out more, you can read our recent post on how partnerships allow us to be part of connecting technology effectively.
A deep understanding of how each party works ensures that data can be used effectively in every email, allowing for innovation and smart working – both crucial for hyper-personalization success. 
Maintaining relevance with segmentation
Over 500,000 customers are subscribed to Toyota's database. That's a lot of people to have a one-on-one conversation with. But data makes this level of personalization possible.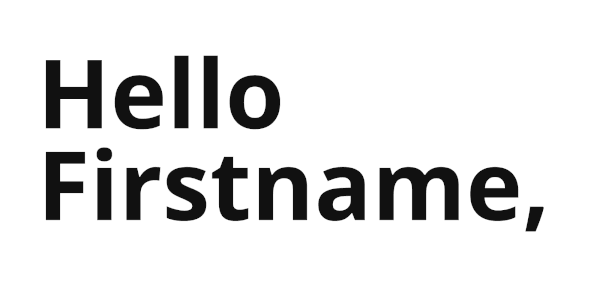 The overall email programme contained over 30 different segments, covering service reminders, service plans, service and MOT reminders, and many more car maintenance milestones. 
We know from the local centers' data when to send these out to specific car-owners.
We then hyper-personalize these emails by splitting based on the age of the car and whether they are a hybrid or non-hybrid customer. 
The aim of these emails is to get customers calling up their local centre and booking their next appointment. The more we can show customers what we understand about them and their car, the more likely they are to continue to build a relationship with their local Service Centre.
Keeping it local with email aliases
It was obvious that these emails need to come directly from each center, which is why emails are sent from different aliases and addresses unique to each location. This helps build on that trusted local relationship with the center. This same relationship-building simply wouldn't be possible with generic centralized messaging from a global car manufacturer.
We also understood that Toyota Centers open at different times, offer different perks as part of their offering and, of course, have different phone numbers. So it was essential the emails drew in center-specific content. 
Ensuring it was helpful and referenceable 
The data provider Qube Automotive Consultancy houses all of Toyota's After Sales data. By working closely, we established what data we were and were not able to pull into these emails. 
We also thought about what would be important to a customer. So, now every email we send to a customer has a 'Your Toyota' block. This incorporates data around your car's history as well as a traffic light system to help you understand what requires actions. This information includes when your next service is due, if your MOT is due to expire, what the status of your current service plan is and whether you are a member of the Toyota 5+ Club. 
Making it personal with creative
Yes, @FirstName @LastName is important, but we pushed it so much further. 
From featuring the model of the car that the customer drove, whether or not it's a hybrid,  in the exact color match they own, to the season in which we were sending the email, we wanted customers to understand we had thought about what we were sending and that it was meant for them.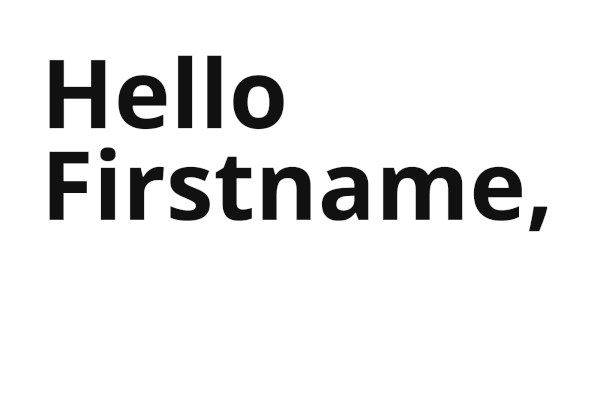 Embracing automation
Hyper-personalization is a vast task.
When we look at all the different variants of how many car models there are in different colors, the 'Your Toyota' combinations and the Service Centre specifics, we output 148, 913,941,562,100 different combinations.
This is only possible with automation.
Jellyfish worked with Salesforce, Toyota and Qube Automotive Consultancy to develop an automation programme that would send emails every day to those customers who were eligible for one of the segments. This runs daily and does not over solicit customers. 
Thinking beyond the data 
You need consumers to believe that they are viewed as an individual – not a set of information from a spreadsheet.
To do this for Toyota, we developed a Tone of Voice for After Sales that is friendly, conversational and real. It is designed to sound like all communication is coming from a real person who works at your local Service Centre.
We also wanted to drive action, so clear and repetitive calls to action made it easy for the user to act having read the email. These are reminders. So, they need to function like so.
The results
Since incorporating hyper-personalization into Toyota's emails, we have seen open rates rise to 46% – a huge difference from the industry average of 12.6%. 
Our average click rate is 10% where the industry average for click is just 3.7%. 
This will have resulted in significant numbers of vehicles coming back into the Toyota service network as a result of these emails. 
It's also one less thing for the local centres to worry about, knowing that head office have email marketing covered so they can focus on caring for customers – and their cars.
Want to get started with hyper-personalization?
In order to build a hyper-personalized email programme, you need accurate data first and foremost, smart workflows, an innovative ESP, clever creative and a trusting client partner with an ambition to push the limits. 
According to research, 40.7% of marketing professionals are focusing more on personalization than any other email trend (Litmus). And with the results we saw for Toyota, it's easy to see why.
Strong partnerships are a crucial element of hyper-personalization success so if you're looking for somebody to help you on your journey, get in touch.
'Brands that have resisted the personalization wave will find their reliance on one-size-fits-all email might shut them out of the inbox as customers grow more apathetic to their messages.'  
Litmus State of Email 2020, Email in the next Decade Prediction