2021-02-14
Transforming product descriptions into the beauty industry's online sales assistants
The retail sector has undergone an accelerated transition to eCommerce in recent months – an evolution which appears likely to prove permanent, as consumer shopping habits are transformed forever. While online beauty retailers stand to reap huge potential benefits from this new economic order, growing competition and escalating consumer choice will also intensify the battle for conversions. And in the online sphere, there are no helpful shop assistants to guide consumers through the vast array of products on offer. In their place, it falls to product descriptions to fulfill this essential role – helping shoppers to make purchasing decisions and nudging them (gently) towards conversion.
The hundreds (or thousands) of humble product descriptions on your website are rather like a Roman army: small taken one by one, but their combined impact is decisive. They can mean the difference between capturing, or discouraging, innumerable potential customers. Effective product descriptions will mean the difference between capitalising on all the effort (and money) spent on bringing those customers to your site – whether through ATL advertising, display ads, paid search, or email campaigns – or simply losing them at the final 'hurdle' in the shopping journey. A leaky purchase funnel is every retailer's nightmare. But how best to craft persuasive product descriptions for beauty brands? What do consumers want to know? And what information makes them more likely to buy?
Product details & benefits
We recently assessed the pre-purchase content of a cross-section of beauty industry websites, from cosmetics and skincare brands to marketplaces, assigning an Ecommerce Content Score to each. A key consideration of the assessments is the quality of product detail provided. Some beauty websites really excel in this area, but a staggering 64% are compromising their conversion rates by publishing incomplete product descriptions.
In our assessment, high-scoring examples included La Roche Posay. The listing for this brand's 'Anthelios ultra-light body mist' covers all the bases, with a clear product image and a detail-rich description, including useful advice on applications. With up to 91% of shoppers consulting online reviews before making a purchase, providing easily accessible product reviews from existing customers is an additional way to boost confidence while providing further details about the product – and La Roche Posay does this, too.

La Roche Posay Anthelios Ultra-Light Mist
Details on product ingredients and potential allergens have become absolutely critical for the skincare and cosmetics sector, especially in the context of growing consumer awareness of chemicals and increasingly stringent regulations on labeling requirements. Unsurprisingly, consumers expect to see this information presented clearly and concisely on retail sites.  Charlotte Tilbury, a strong performer in our assessment, sets a stellar example– not only clearly listing all ingredients, but also offering a bulleted list with further information about each. For example, in the following listing for its 'Supermodel Body Highlighter' it explains the respective attributes of ingredients such as Wild Pansy Extract and Rosehip oil, noting that the latter is 'a source of natural linoleic acid to help revitalise the appearance of skin.'
Charlotte Tilbury's reference to 'revitalising the skin' highlights another key element of product descriptions that convert – persuasively setting out a product's unique benefits in much the same way as a sales assistant would. Such compelling advice can still be imparted online, as the Olay Regenerist series ably demonstrates. Olay's 3 Point Firming Anti-Ageing Cream Moisturiser 'regenerates skin's surface cells and delivers anti-aging ingredients 10 layers deep into skin's surface to help retain its youthful look', further backing up this benefit with powerful clinical trial statistics.
Health & wellbeing
As a recent Nielsen study has revealed, the beauty consumers of today are more 'informed, engaged and connected than ever before' and see beauty and wellness as largely interchangeable – with a greater focus on holistic beauty. In the face of a global pandemic the drive for better health remains an enduring motivator for everyone and the most effective product descriptions will reflect this. Infusing product descriptions with information on prospective benefits to consumers' health and well-being, will help strengthen the impetus to buy.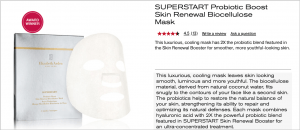 Elizabeth Arden Superstart Probiotic Boost Skin Renewal Biocellulose Mask
For the beauty industry, wellness means a growing emphasis on the links between things like healthy ingredients and clearer skin; maintaining the body's natural protective barrier in tip-top condition. For example, nutritional elements such as probiotics, traditionally valued for their benefits to the gut biome, are now also starring in skincare products, such as an Elizabeth Arden series including masks, cleansers, and serums. The respective product descriptions for this series highlight the benefits of a probiotic blend, which, according to Elizabeth Arden's consultant dermatologist, limits the growth of bad bacteria on the skin, resulting in 'fewer spots and less inflammation.'
Irrespective of the wider-reaching health benefits, the promise of 'less inflammation' is likely to resonate strongly with consumers, offering reassurance and justifying higher price points. After all, you can't put a price on health.
Sustainability & ethics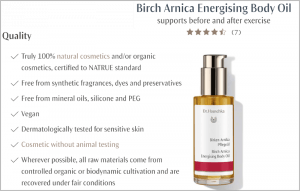 Birch Arnica Energising Body Oil
Successive studies illustrate that sustainability is becoming a critical consideration for many consumers, so product descriptions will benefit from highlighting related benefits, such as details on sustainable packaging and ethical ingredients used. Frequently commended for its strong sustainability credentials, the pioneering Dr. Hauschka brand adopts biodynamic farming methods to grow its ingredients, treats its employees ethically, and uses green electricity wherever possible. Its product descriptions, such as for the Birch Arnica Energising Body Oil, clearly outline sustainability benefits, which include being 100% organic, free from synthetics, free from mineral oils, silicone and PEG, vegan, and more.
Another ethically-minded brand, the self-declared 'clean-beauty pioneers' Bare Minerals, is setting new standards with their inclusive Gen Nude series of cosmetics, designed to match a colour-chart of different complexions. As Bare Minerals puts it, 'Nude isn't just one colour, but a playground of infinite possibility.' The brand also offers a series of Vegan and cruelty-free products, including its 'Fragrance-free, gluten-free and talc-free' Barepro 16hr full coverage concealer, which scored a perfect 10 for sustainability metrics in our Ecommerce Content Score assessment.
Cross-selling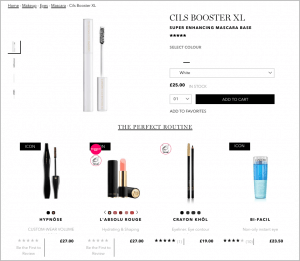 Cross-sell selection on product page for Lancôme's CILS Booster XL Mascara
Failing to highlight related items for the consumer's consideration on a product page represents a massive missed opportunity for any retailer to increase basket size while improving customer satisfaction. For beauty or cosmetics brands, such cross-selling opportunities may also take the form of 'styling' tips, such as a suggested kohl or lipstick shade to complement a mascara. Iconic French brand Lancôme utilises this strategy to great advantage with a section on its product page that it calls 'The perfect routine', in which it showcases carefully curated cosmetics to use in conjunction with the featured product.
Don't forget the basics
Finally, we found that the sites that scored well against our Ecommerce Content Score assessments were those that ensured all the basics were covered. This means formatting content thoughtfully, with a combination of bullet points and prose, according to web and mobile best practices, making it easy to digest across a range of devices. Additionally, to be SEO-friendly, product descriptions must be entirely original – not duplicated elsewhere on the web. Content that is simply copied and pasted between a manufacturer's catalogue and marketplaces – however compelling – will quickly fall into Google's equivalent of a deep black hole, never to be seen on a SERP again. Equally, to ensure the high-end experience the consumers expect when paying significant sums for small items, it's equally critical to ensure content is consistently error-free and highly readable, with no distracting spelling mistakes or grammatical blunders, that imply a lack of care.
Product descriptions that convert: the formula 
A conversion-optimised product description for beauty brands needs to include all the ingredients outlined above. Getting these elements right – in a high-quality editorial style that reflects your brand's unique identity and tone of voice – gives the customer a compelling, persuasive view of the product, and will ultimately make them more likely to click 'add to basket'.
Find out how your product descriptions measure up, and if they're likely to boost your conversion rates, by requesting an Ecommerce Content Score here.