2023-07-27
Unleashing Innovation: Insights from our Hackathon with Google
Every year, Jellyfish holds a hackathon with engineers and wider teams to collaborate on solving issues, developing innovative solutions or creating new software applications and products.
Following the success of our 2022 hackathon, our partner Google approached us to be part of the event, and our 2023 hackathon became the biggest in history. The result was a three-day event (June 12-14) hosted in Paris across both Google and Jellyfish offices,  involving 100 of our engineers supported by a Google team of 20. 
I asked three individuals at Jellyfish about their hackathon experience. VP of Engineering Matthew Tomich; Senior Manager, Product Management Apolline Vanneste and Senior Director, Production, Ben Sheppard.
The hackathon spanned three intense days filled with energy, creativity, and a relentless pursuit of excellence. Participants immersed themselves in brainstorming sessions on the first day, sketching ideas on whiteboards and validating concepts. The second day was the focal point, with teams dedicating themselves to coding, refining their solutions, and preparing impressive presentations for the judging panel. The culmination came on the third day when participants presented their ideas at the Google Paris offices.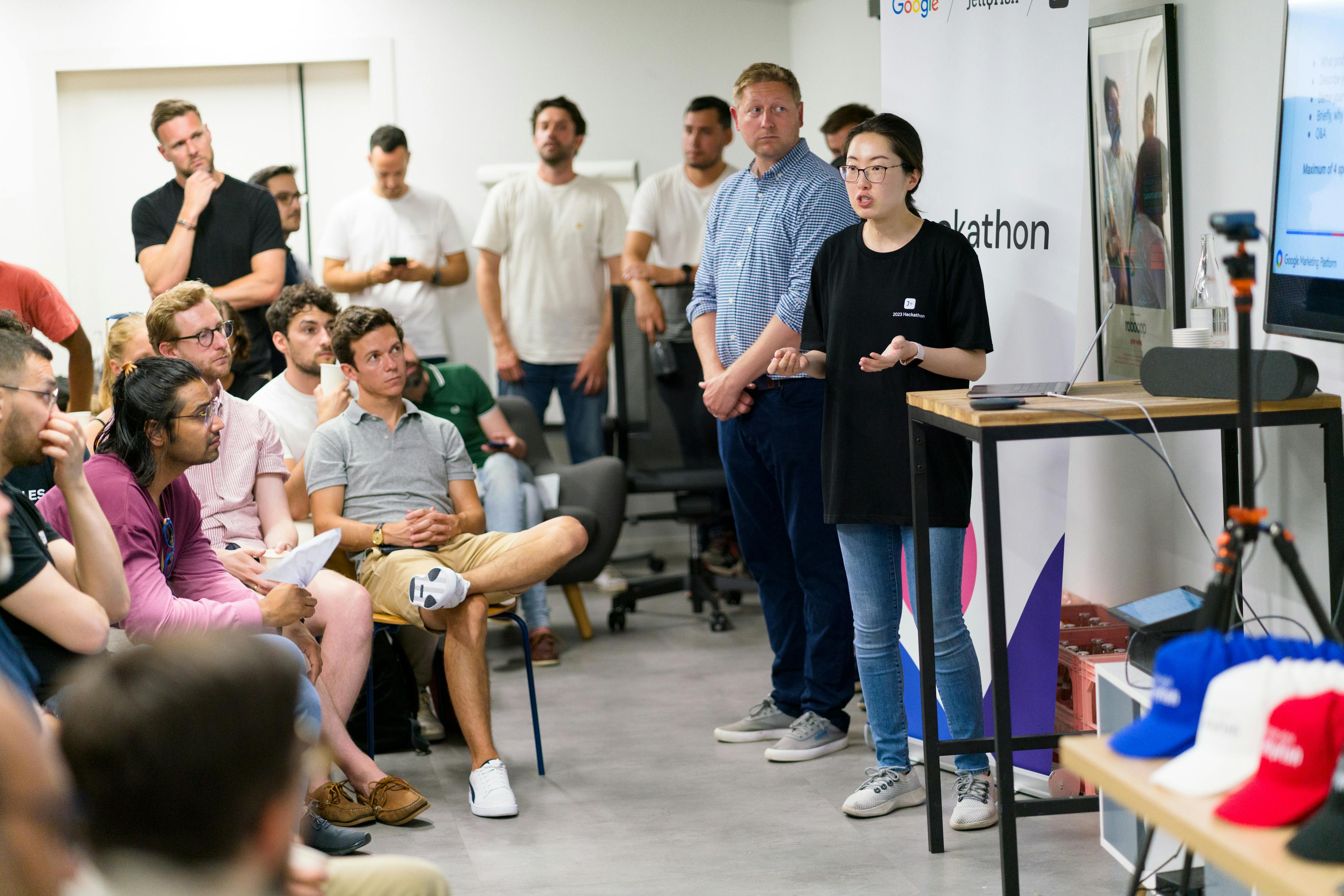 The partnership with Google proved invaluable throughout the hackathon. Their presence fostered an environment of collaboration and innovation, enabling out team of experts to leverage unique technologies and data sets to build groundbreaking solutions.
"The Google team were amazing and invested so much time that led to the hackathon's success," said Matthew. "They gave us access to new Generative AI tools, prepared tutorials and gave talks, had G-Tech staff on site to help with questions and ran office hours sessions for the engineers to drop into, and of course provided some cool swag for the winners"
For our teams, the hackathon presented numerous benefits beyond the thrill of competition. It served as an opportunity to work alongside colleagues from different teams, fostering cross-pollination of ideas and knowledge sharing. Reflecting on the hackathon experience, everyone I spoke to enjoyed connecting with colleagues they rarely collaborated with and relished the opportunity to work within the vibrant atmosphere of Google's offices. 
"It was an excellent opportunity to work with and meet some super smart people from other teams we don't usually get to work with," said Matthew. 
Apolline adds, "It reinforces the sense of belonging to Jellyfish with a touch of pride and achievements when looking backwards, seeing all the work we've done during this hackathon."
The event also facilitated learning new technologies, particularly in the realm of Generative AI, and allowed our teams to explore capabilities beyond their usual domains, broadening their skill sets and understanding of the business.
"It's amazing seeing what people with different backgrounds and skill sets can accomplish in a matter of days," said Ben. "How deep technical knowledge and broader strategic thinking can work together to interpret a problem, create a solution and craft a narrative so quickly is magical!"
Apolline believes the hackathon highlights our expertise, "We are a company that leverages its unique proprietary technologies to take our service offering to the next level and drive growth for our clients. It reassures our clients and partners of our capacity to build innovative tools at the cutting edge of modernity with the latest technologies, validated by Google, a key player in the tech field. Ultimately, our clients and partners will benefit directly from these tools as they will enhance their productivity and/or performance directly or indirectly through our service offering."
Learn how AI & the Search Generative Experience (SGE) will impact traffic and rankings from search
Read on
Ben agrees, "Having baseline technology and products from a platform like Google is great, but solving client challenges come from smart thinking and using these tools to create unique and valuable solutions. Something that can make Jellyfish stand out against our competition."
One of the biggest takeaways from the event was the realization that teamwork and collaboration can propel innovation to new heights. The exceptional presentations each team delivered highlighted our technical teams' strengths and reaffirmed their ability to think creatively and generate groundbreaking ideas.
Overall, the hackathon proved immensely beneficial for individuals, Jellyfish and Google The fast-paced nature of the event spurred the emergence of great ideas and forged new ways of working among our capabilities. The hackathon exemplified the power of collaboration, passion, and cutting-edge technology, leaving a lasting impact on the participants and showcasing our unwavering dedication to pushing the boundaries of what is possible in digital. 
Congratulations to our winning teams