2021-06-10
What email marketers need to know about iOS 15
This week, Apple announced Mail Privacy Protection at their WWDC conference. One of their latest privacy-related features aimed at giving users more control over their data. 
If you're an email marketer or a company that relies on email marketing as a communication channel, you'll need to be aware of the new feature that enables users to prevent open tracking on their emails and IP addresses being shared. Whilst this feature will only be active for users of the Apple Mail app, this accounts for just under 60% of the market across iPhone, Mac and iPad apps.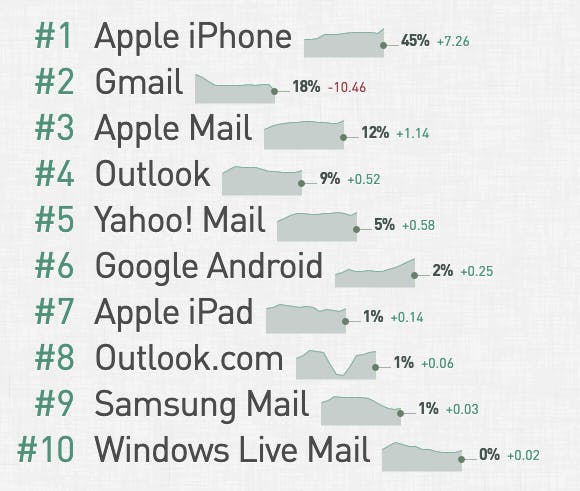 So what does this mean for email marketing?
If Apple Mail users opt to 'protect their mail activity' (and many will), the pixel that is used to track opens and determine location will be disabled. 
In a nutshell, email campaign reporting is about to get a big shakeup, as open rate data for the largest mail app will become less reliable.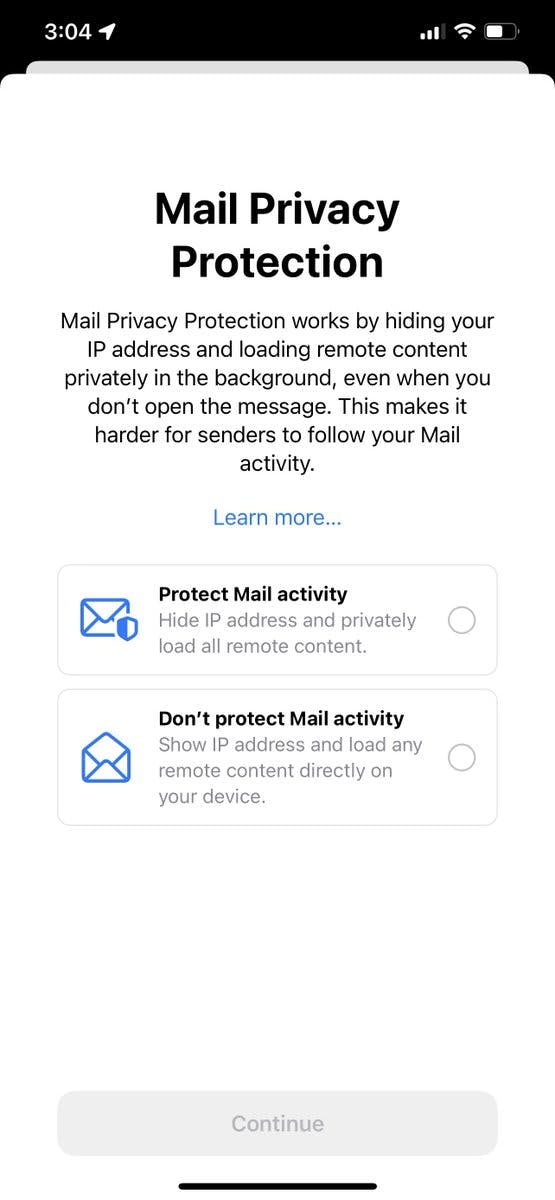 Is this the end of the world for email marketers?
Well, not exactly. Open rates are often seen as a vanity metric. After all, what good is an open without a click or, more importantly, a conversion? (With the possible exception of an old school informative real newsletter). 
However, the lack of open rate data has wider implications than just reporting. 
When building one-to-one email journeys in platforms such as Salesforce Marketing Cloud, email marketers often use open decision splits to gauge a subscriber or prospect's interest in a particular product or service. Did the user open the first email? If yes, proceed to the next email, and the email after that etc. Without the use of open rate data, email marketers will need to adopt a different approach, and existing journeys will need to be adapted. It's likely that lead scoring models and CRM/sales strategies will also require an overhaul. Better control groups will be required in order to attribute channel impact, and measure program effectiveness.
It's imperative that brands shift their focus to tracking more meaningful metrics.
Clicks will still be tracked in iOS 15, and conversion rates can still be measured to assess the effectiveness of a campaign. Plus, metrics like list growth, unsubscribes and website/app analytics data will rightly become a higher priority in campaign reports.
There are however a few areas where brands & the industry will feel the impact:
Deliverability – Today, (good) brands closely track their open rates, and actively remove non-engagers from their lists in order to maintain good list health & strong deliverability with ISPs. This update from Apple will have a significant effect on this, one that Email Service Providers and ISPs are no doubt working behind the scenes on their response to right now. 
A/B Testing – The accuracy of subject line testing, a favorite with many brands, will now be less reliable. In terms of a knock-on effect to the industry, many ESPs and other tech companies have built whole platforms on A/B testing functionality, and the ability to quickly and easily understand what message themes resonate with their customer database. How will these companies adapt?
Send time optimization – Similar to A/B testing, ESPs have invested heavily into send time optimisation features over the past few years. This allows emails to be sent at the optimal time to each user based on previous open times. With the lack of open rate data, the effectiveness of this feature will be severely impacted.
Location-based content – Whilst, in reality, only a very small number of brands were relying on IP addresses to serve location-based content (due to accuracy issues), those that were (and the companies they used to power such features) will take a big hit.
What are the next steps for me as a marketer?
After the major privacy changes in the previous (iOS 14) update,  email marketing took centre stage. As an explicit 'opt-in' channel, it became a 'safe haven' for marketers looking to provide personalized and bespoke consumer experiences and accurately measure their effectiveness. Whilst this latest update will be welcomed by end users, the ability for marketers to deliver many of those experiences becomes more difficult. 
There's no denying that this update will have a significant impact for CRM teams and essentially means the end for open rate as a legitimate reporting metric (particularly as other email apps are likely to follow suit). ESPs will need to find new ways for brands to measure their campaign effectiveness, and marketing teams will need to rethink how they map customer journeys, gauge interest in content themes or product categories across those journeys.
Are the days over for never-ending test & learn programs to determine which emoji in the subject line drove more opens? Quite possibly. (It's always the beach one anyway 🏖️)
Will it drive a renewed focus on deeper reporting, analytics and more meaningful metrics? Certainly. 
Good brands (with great digital partners 😉 ) will take this in their stride. They'll continue to see high customer engagement with their campaigns and realise strong returns from their investment in the channel, and be prepared that the method of measuring that success is about to change.
If you'd like to discuss how we can support your brand in engaging your customers & prospects through CRM across the entire customer lifecycle – please reach out below.