2023-06-29
Jellyfish successfully promoted HOKA and secured third place at Google DACH GMP Partner Awards
Jellyfish supported the promotion of HOKA, a global footwear and apparel company, leading up to and during the Frankfurt Marathon by leveraging DV360's long-form video formats on platforms like Prosiben, YouTube CTV, and contextual video, as well as using a custom GA signal-driven algorithm developed by Jellyfish for native formats.
The Frankfurt campaign reached a total of 4.3M users in DE and exceeded the overall reach target by 16%. Delivering the media through DV360 showed an 11% overlap in strategies giving us a more accurate reach and campaign frequency reading. This approach also helped us avoid unnecessary expenditure on media. Users in Frankfurt exposed to the campaign in DE were 1.14x more likely to visit the site than the website average.
This is a truly innovative way of thinking and the impact on performance has been great.
Melanie Pillaud, Senior Digital Marketing Manager EMEA, HOKA & TEVA
The Google Marketing Platform Partner team also hosted their first DACH GMP Partner Awards this year, at which Jellyfish won third place in the Media Efficiency category for our HOKA work.
The awards celebrate the great work of Google's partners in Germany, Austria and Switzerland and recognize the increase in customer digital maturity, innovation and the creation of new solutions with Google technology. The three award categories are:
1P data excellence (privacy as driver of performance) Demonstrate great usage of 1st party data in a privacy safe manner to achieve high performance impact.
Media efficiency (DV360, CM360) Demonstrate the usage of a variety of formats telling a compelling brand story while having strong performance through media consolidation and automation.
Advanced data/machine learning application Demonstrate performance up-lift or efficiency gains through using Google Cloud services such as BigQuery and BigQuery ML.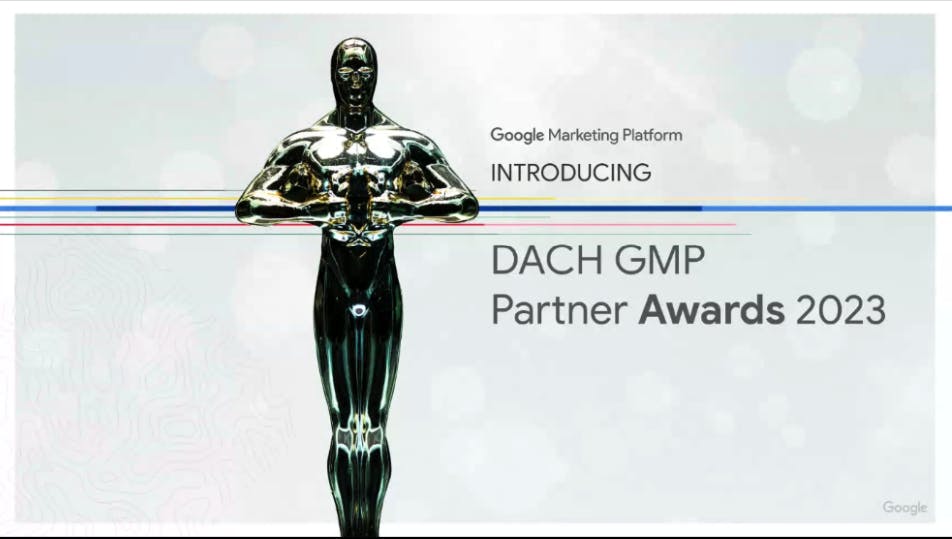 During the Google DACH annual Google Marketing Technology Conference 23, Jellyfish had the honor of being selected as a keynote speaker alongside Ellos. Notably, Jellyfish was the sole partner to feature a client on stage. Additionally, Jellyfish received a nomination in the "Media Efficiency" category at the Google DACH GMP Partner Awards 2023.

Bine Johanson, would like to send a massive shout out to the amazing Jellyfish team that helped the Berlin Jellyfish team put this nomination together:
Andrew Leslie, Programmatic Director
Phil Farrington, Senior Programmatic Director,
Luca De Iorio, Programmatic Manager,
Yuveshka Reddy, Marketing Manager,
Kate Williams, Media Strategy Director,
Julien El Khawaja, Senior Programmatic Manager,
Lydia Domenech, Account Director,
Renee Van Gemert, Project Director,
Georgia McMahon, Programmatic Manager and Zaynab Abbasi, Senior Data Planner who were directly involved in the HOKA campaign.
We won 3rd place with our work for HOKA in the DACH region! This makes me so, so proud for many reasons. Getting the Google Media efficiency recognition in a market that is massive, 2nd largest populated country in Europe with almost 84 million people and achieving this recognition by Google, in a very competitive partner landscape, is not something that is easily done.
Bine Johanson, Managing Director, Nordics, Germany and Netherlands