2023-08-09
We're a Snap Conversions API Partner
The partnership between ourselves and Snap will ensure that our joint advertisers can continue to drive marketing performance and ultimately provide more control in a 3P cookieless future.
We are doubling down on the capabilities of server-side tagging across our array of world-leading clients to alleviate the issues arising in a privacy-conscious world.  Implementing server-side tagging allows brands to remain agile to ongoing privacy considerations, a common theme amongst our client base.
What is server-side tagging?
Simply put, server-side tagging is the future of data collection. Our chosen preference platform is Google sGTM (server-side Google Tag Management) which we use to integrate with a range of media partners, including Snap Inc. as of now!
What is Snap's Conversion API (or CAPI)?
Snap's Conversions API is a privacy-centric interface that allows you to directly pass web, app, and offline events to Snap via a Server-to-Server (S2S) integration.  Sharing events through CAPI helps optimize your ad campaigns, improve your targeting and measure the conversions that resulted from your Snapchat campaigns.
Why should I be interested in it?
A server-side tagging solution via sGTM helps our clients in three ways:
Increases media performance (Resilient Data)
- sGTM is a privacy-safe solution which will generate 5-10% more data for bidding algorithms to optimise against in real time   
Builds data maturity (Future Foundations for Changing Ecosystem) 
Enhanced data quality for CX and business activation by reducing the impact of cookie deprecation. It also enables more advanced use cases such as optimising towards offline values, such as profit or prediction models.
Enhances security (Control) 
Build a durable foundation for conversion modelling (Enhanced Conversions, Consent Mode, and 1P cookies)
How does it work?
Server-side tagging allows our clients to send data directly from their own server. This ensures greater accuracy and reliability compared to traditional methods, which can be affected by various things such as default ad blockers, and browser restrictions (all of which can result in incomplete/inaccurate data). 
In short, server-side tagging mitigates these limitations whilst still respecting a user's privacy choices.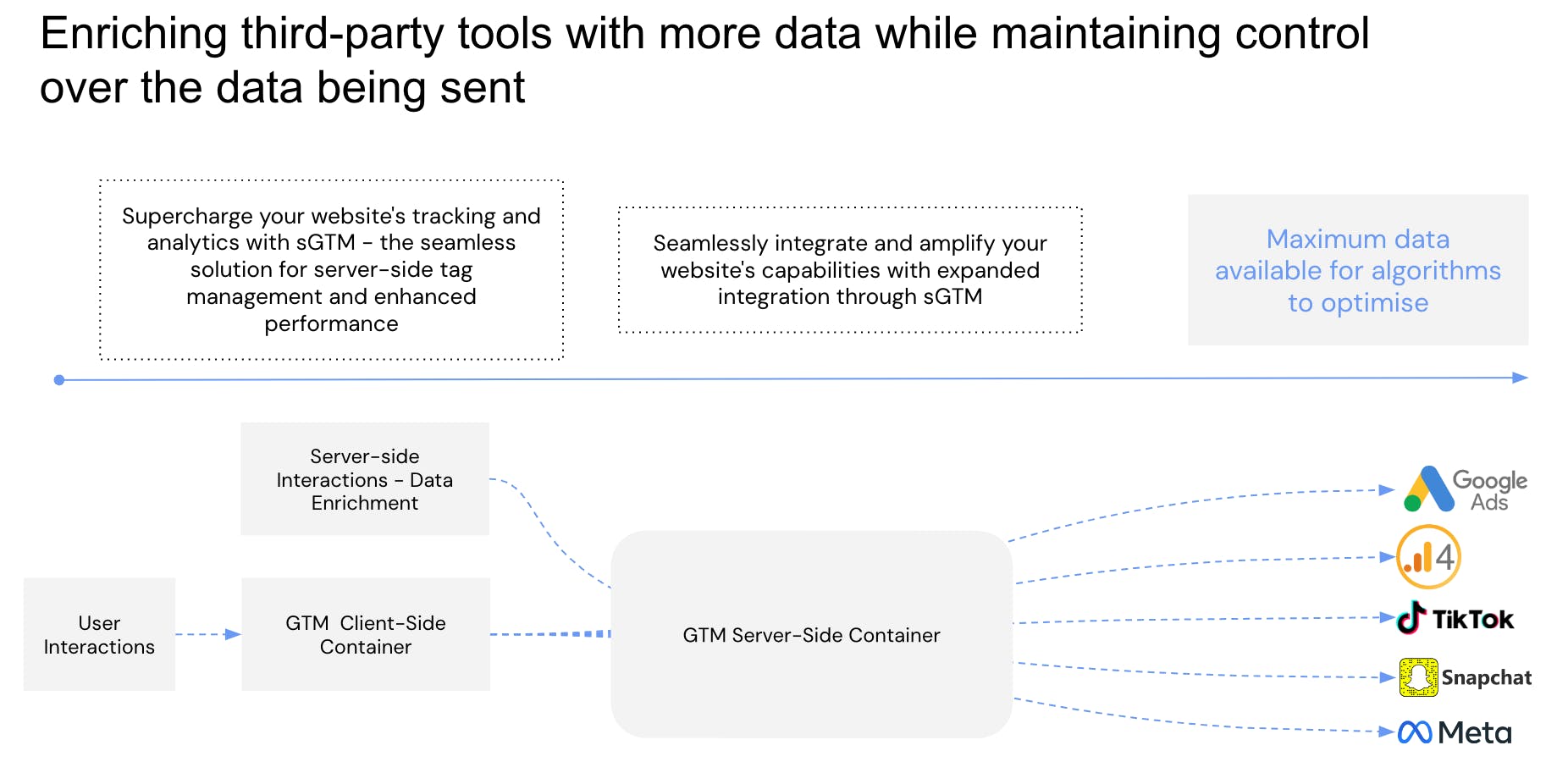 "We believe that server-side tagging in combination with cookieless tagging techniques, will become 'the' standard of measurement in 2023, by allowing advertisers to retain robust data signals whilst respecting a user's privacy choices. We are pleased to now include a data-sharing connection with Snap, a key media platform for many of our customers. By providing incremental data to platforms and increased match rates from hashed first-party data, algorithms are in a position to learn more effectively, leading to better marketing performance. "
Brett Cella, Senior Data and Analytics Director, Jellyfish
Want to know more about server-side tagging, sGTM or Snap?
Get in touch