2020-09-25
Building a roadmap to digital transformation
Marketers love tactics.
There's just nothing like a splashy campaign or innovative ad execution to gain attention and – hopefully – drive value. But while siloed teams (and individual careers) can get a nice boost from case studies with "cool factor," the sugar rush of a given tactic can quickly wear off unless a given execution is purposefully connected within a larger ecosystem. 
Digital marketing, by nature, offers tremendous opportunity to strengthen connections across and between teams, channels, and business units. That's good news, but it also means that every failure to take full advantage of that connectivity can represent an opportunity cost on a tactic-to-tactic basis.
At Jellyfish, we live by a simple rule: advance overall digital maturity to the fullest extent possible with every execution. 
This manifests as both a mindset and an actionable roadmap for digital transformation, as exemplified by the global work we've done with Deckers Brands (UGG, HOKA, Teva, Sanuk, Koolaburra) over the past years of our engagement. 
As you'll see, true digital transformation goes way beyond a series of flashy tactics (although we've done plenty of those too – we are marketers, after all).
Defining "Digital Transformation" in Practical Terms
There's general agreement that "digital transformation" is a good, even necessary, direction for brands and businesses. That consensus ends when the discussion turns to what "digital transformation" means and how to do it.
To us, digital transformation means converting unstructured data to structured data wherever possible and putting such data to the most effective and efficient possible use.
You may have noticed that this definition contains entire universes. 
A transformation could involve "typical" digital marketing activities like updating platform usage to best practices, refining measurement outputs, or running campaigns with the most optimal media mix, frequency, reach, and budget. It could be more advanced stuff, such as introducing new technology integrations and automation, layering machine learning tools on top of existing data flows, or bridging data inputs with dynamic executions to deliver more granularly personalized touchpoints at scale. 
There are nearly endless ways to go about it.
The common thread among these efforts is that every step in the process should open up new possibilities. Automation frees up resources for new activity. Optimization unlocks the budget for trying new things. Insight pushes you forward into new opportunities. In turn, those next steps open more next steps. 
If you follow the path to its logical conclusion, eventually every new possibility you uncover will lead the next direction in digital marketing, rather than reacting to it.
That's the end state of digital transformation.
To learn more about the digital maturity framework Jellyfish uses to measure progress with our client partners, read more about the BCG & Google Digital Maturity Benchmark. 
Case in Point
To help put digital transformation in even more practical terms, Jellyfish worked with Deckers earlier this year to build an entirely new pipeline of structured data for their UGG fashion footwear and lifestyle brand.
By re-engineering the Google Vision API, Jellyfish built a tool (we call it Optics) that could automatically analyze the entire extensive library of UGG ad creative, and find signals among a host of image variables that related to performance indicators.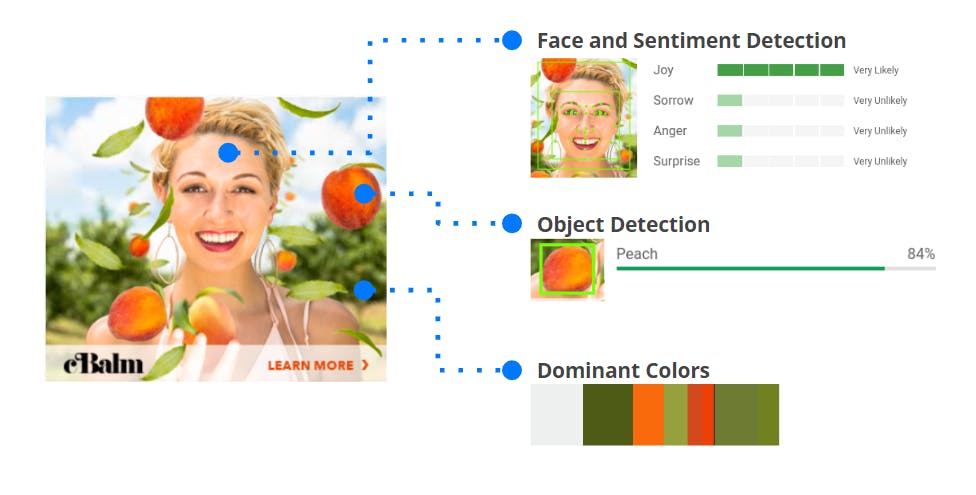 Optics allowed our team to define key image characteristics, analyze existing images in one fell swoop, output each variable into a filterable data set, and then judge the relative value of those characteristics. 
Along the way, we found out the optimum number of shoes to include in a product shot, lending a degree of data-based objectivity to a creative choice that had been completely subjective up until then.
But more importantly within the context of digital transformation, our work opened up a new avenue of structured data collection that can be used to test even more provocative creative decision-making. For more details, read our article on Why understanding your ad creative has never mattered more.
Partnering With a Digital Transformation Mindset
Digital transformation also has a softer side. 
Organizations can often struggle to move forward – even with a readable roadmap, tangible benchmarks, teachable best practices, and all the right infrastructure.
That's because digital transformation is about meeting your customers where they are. Your customers don't experience silos. Or think of channels as "channels." They just flow from one screen to the next, changing apps at a whim, blissfully unaware of measurement and attribution concerns.
So it only makes sense that true success in digital transformation flows from the right mindset. Evolving to a true customer-centric approach in the digital age requires a certain willingness to share credit across organizational silos, a general openness to experimentation, and, most importantly, trust – the real currency of every effective partnership.
Trust can be hard to come by in the marketing industry.
Want to know where every dollar of spend is going? We'll show you. Want to manage your accounts? We'll train you. Want to know what's in our "secret sauce?" We'll give you a list of ingredients.
We structure our organization for trust-building because it's the only way to lay the groundwork for digital transformation. 
All we ask in return from our client partners is an open mind.
Case in Point
Jellyfish first started with Deckers Brands in 2017 by onboarding their five main brands (UGG, HOKA, Teva, Sanuk, and Koolaburra) for performance marketing in North America, and migrating their technology platform to Search Ads 360, Campaign Manager, and Display & Video 360. Deckers were looking for an integrated tool set to best manage cross-channel journeys and partnered with Jellyfish to make this happen. 
Boosts in performance and increases to operating efficiency helped us gain their trust, and by January 2018, Deckers rewarded us with their North American brand marketing business. Our partnership grew to include EMEA operations and in July 2019, and further to Japan throughout 2020. 
While this relationship development journey may scan as a "land and expand" success within a traditional multichannel global marketing agency model, the partnership has grown organically.
This has only been possible because of a shared mindset between Deckers and Jellyfish. 
"At Deckers, we truly embraced 'transformation. To be able to track, engage and influence consumers along their journey, we had to evolve from a channel-centric orientation to a consumer-centric organization. We made dramatic changes to people/process/technology. We moved away from a last click metrics to consumer value metrics. And Jellyfish was a key partner in helping us accelerate this transformation, managing the spectrum of digital contacts to nurture audiences toward our brands."
Deckers VP of Omni-Channel Marketing Richard Russell
When partners align to the goal of digital transformation – and are both willing to try new things to accommodate the other – taking the next step together in building a connected digital marketing ecosystem always feels like the right move. Throughout our partnership, Deckers, particularly the UGG and HOKA brands, has advanced their overall digital maturity from Nascent to Connected along the digital maturity curve.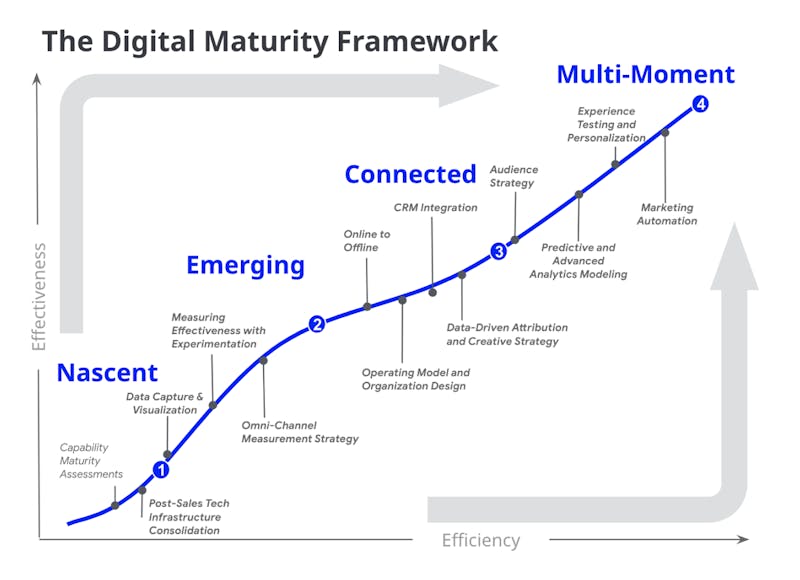 NASCENT – businesses that work on a campaign-by-campaign basis, using external data and direct buys with limited link to sales.
EMERGING – businesses that use limited owned data in automated buying, with single-channel optimization and testing.
CONNECTED – businesses that integrate and activate across channels with a demonstrated link to ROI or sales proxies.
MULTI-MOMENT – Businesses that optimize dynamic executions toward a comprehensive single-donor view across channels.
Growing in Digital Maturity can be looked at as growth in five key areas – the "the five A's": Attribution, Assets, Audience, Access and Automation.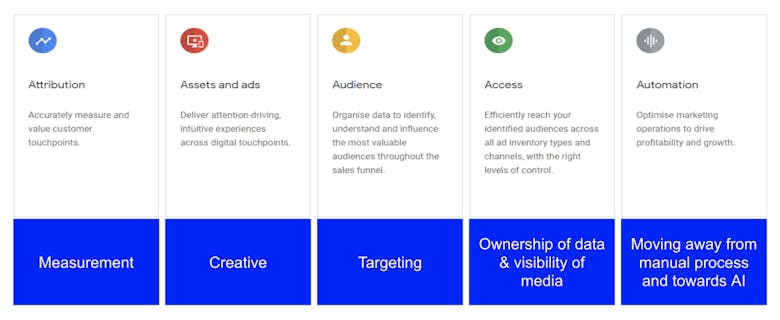 Deckers have steadily progressed across all areas of Digital Maturity, but an area that we are most excited about is that of Assets – "Deliver attention-driving, intuitive experiences across digital touchpoints" (that drive real business value).
It does all come back to tactics
When working within a structured approach to digital maturity, there is still room for fancy tactics. The tactics are just more data-driven, and fit well into a bigger picture. When COVID-19 completely altered consumer habits, HOKA (the Deckers performance footwear and apparel brand) found that more people were running than ever before, but had to find new ways of reaching people with brick and mortar shopping experiences on hold. Due to the strides we've made in advancing digital maturity, they were ready to execute on dynamic, responsive, and attention-getting ad formats that brought their shopping experience out into the world in new and interesting ways.
For example, Jellyfish helped them deliver a virtual pop-up store that used augmented reality features in Snapchat to highlight their inventory in a safely socially distanced fashion, all with a go-to-market turnaround of under three months. This simply would not have been possible without the less flashy work we'd already done to transform their data pipelines, and it definitely would not have been possible without a "let's go for it" attitude that enabled the bridging of product feeds into paid social executions. It also drove real business results with a 99% increase in percentage ratio of total net new users.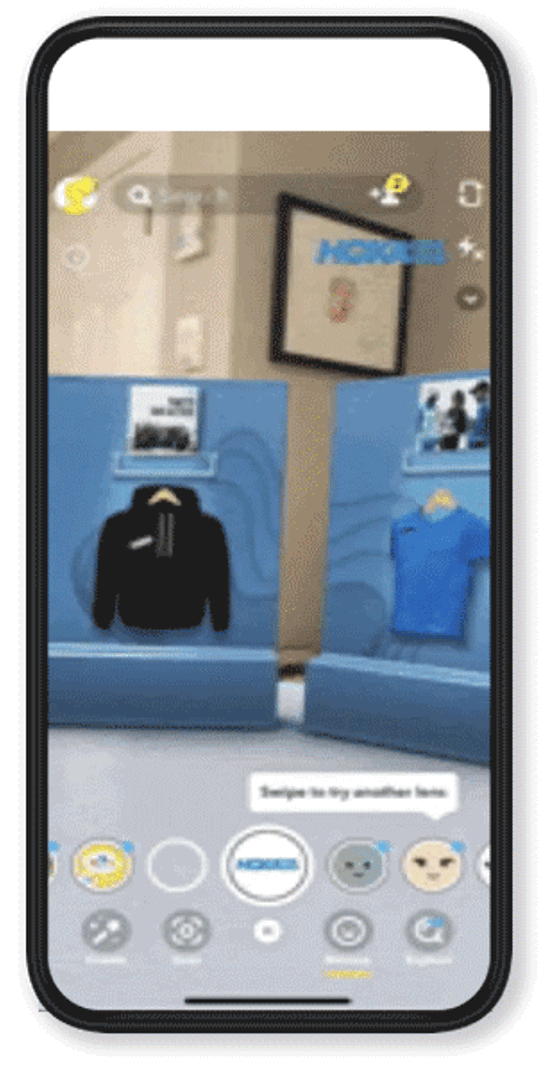 For more information, check out theAdWeek write-up on HOKA's virtual pop-up shop.
Utilizing 4C to Reach Users in Real-Time Weather Moments
Another way we were able to deliver highly relevant assets to the right audience was by making use of smart, connected technology. UGG developed several new assets in the late fall to focus on  the all-weather features of their styles. Using 4C's Weather Sync technology, we executed a cross-platform campaign to trigger the delivery during real-time weather events such as cold temperatures, rain, and snow.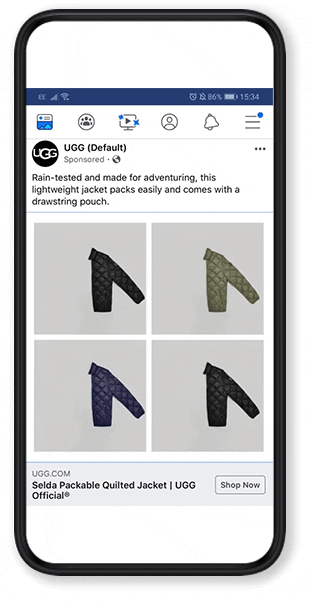 Using historical UGG data, Jellyfish identified 10 key regions to target. During the three month flight, the Weather Sync campaign produced an impressive ROAS of +1200% overall. 
Interested in pursuing the path to digital transformation? Although marketers may be tempted, you probably can't start with tactics. 
For advice on where you should start, reach out to Jellyfish.